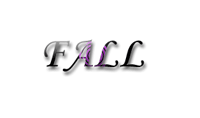 Fall through - Fail
The scheme fell through for want of support.

Fall out - Quarrel
The two brothers fell out for money.

Fall off - Diminish
In the second school -term my attendance fell off.

Fall in - Get into line
The captain ordered his men to fall in.

Fall on - Attack
The villagers fell on their enemies.