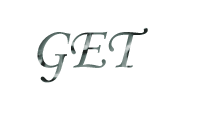 Get away - Escape
The thief got away with my jewels.

Get out - Remove
I can't get out this stain.

Get at - Attack
The dog tried to get at me.

Get through - Pass
The boy got through his examination.

Get under - Under control
The people soon got the fire under by pouring buckets of water over it.

Get up - Rise from bed
I get up at 6 a. m. daily.

Get into - Board
She got into the train.

Get rid of - Get relieved of
How can I get rid of him?