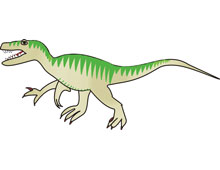 Few subjects in the Earth sciences are as fascinating to the public as dinosaurs. The study of dinosaurs stretches our imaginations, gives us new perspectives on time and space, and invites us to discover worlds very different from our modern Earth.
From a scientific viewpoint, however, the study of dinosaurs is important both for understanding the causes of past major extinctions of land animals and for understanding the changes in biological diversity caused by previous geological and climatic changes of the Earth. These changes are still occurring today. A wealth of new information about dinosaurs has been learned over the past 30 years, and science's old ideas of dinosaurs as slow, clumsy beasts have been totally turned around.
Knowledge about dinosaurs is derived from a variety of fossil and non-fossil records, including fossilized bones feces, trackways, gastroliths, feathers, impressions of skin, internal organs and soft tissues. [34][35] Many fields of study contribute to our understanding of dinosaurs, including physics, chemistry, biology,and the earth sciences (of which paleontology is a sub-discipline) .
Dinosaur remains have been found on every continent on Earth, including Antarctica .Numerous fossils of the same dinosaur species have been found on completely different continents, corroborating the generally-accepted theory that all land masses were at one time connected in a super-continent called Pangaea .Pangaea began to break apart during the Triassic period roughly 230 million years ago.[36]

Million years ago, long before there were any people, there were dinosaurs. Dinosaurs were one of several kinds of prehistoric reptiles that lived during the Mesozoic Era, the "Age of Reptiles."
The dinosaurs dominated the Earth for over 165 million years, but mysteriously went extinct 65 million years ago.

Paleontologists now have evidence that dinosaurs lived on all of the continents. At the beginning of the age of dinosaurs (during the Triassic Period, about 230 million years ago) the continents we now know were arranged together as a single supercontinent called Pangea. During the 165 million years of dinosaur existence this supercontinent slowly broke apart. Its pieces then spread across the globe into a nearly modern arrangement by a process called plate tectonics. Volcanoes, earthquakes, mountain building, and sea-floor spreading are all part of plate tectonics, and this process is still changing our modern Earth.
Dinosaur communities were separated by both time and geography. The "age of dinosaurs" (the Mesozoic Era) included three consecutive geologic time periods (the Triassic, Jurassic, and Cretaceous Periods). Different dinosaur species lived during each of these three periods. For example, the Jurassic dinosaur Stegosaurus already had been extinct for approximately 80 million years before the appearance of the Cretaceous dinosaur Tyrannosaurus. In fact, the time separating Stegosaurus and Tyrannosaurus is greater than the time separating Tyrannosaurus and you. At the beginning of dinosaur history (the Triassic Period), there was one supercontinent on Earth (Pangea). Many dinosaur types were widespread across it. However, as Pangea broke apart, dinosaurs became scattered across the globe on separate continents, and new types of dinosaurs evolved separately in each geographic area.

Dinosaurs were land-dwelling reptiles that walked with an erect stance. Their unique hip structure caused their legs to stick out from under their bodies, and not sprawl out from the side (like other reptiles). When dinosaurs first evolved from more primitive archosaurs, they were bipedal (walked on two legs). Much later, some dinosaur groups returned to a four-legged stance, having hind legs much larger than their front legs.
There were lots of different kinds of dinosaurs that lived at different times. Some were HUGE, some were small. Some walked on two legs, some walked on four. Some were speedy, and some were slow and lumbering. Some were carnivores and some were herbivores. Some were armor-plated, some had thick, bumpy skin, some had horns, and some even had primitive feathers.

Dinosaurs generally are named after a characteristic body feature, after the place where they were found, or after a person involved in the discovery. Usually the name consists of two Greek or Latin words (or combinations); in order, these are the genus (plural, genera) and the species name. For example, the Greek and Latin combination (binomen) Tyrannosaurus rex means "king of the tyrant lizards." Biologists name modern animals exactly the same way. Some examples include humans (Homo sapiens), domestic dogs (Canis familiaris), golden eagles (Aquila chrysaetos), box turtles (Terrapene carolina), and rattlesnakes (Crotalus horridus).

No one knows what colors or patterns they were, how they sounded, how they behaved, how they mated, or even how to tell whether a fossil came from a male or a female dinosaur.
Although dinosaurs' fossils have been known since 1818, the term dinosaur (deinos = terrifying; sauros = lizard) was coined by the English anatomist Sir Richard Owen in 1842. The only three dinosaurs known at the time were Megalosaurus, Iguanodon, and Hylaeosaurus, very large dinosaurs.

Some dinosaurs ate lizards, turtles, eggs, or early mammals. Some hunted other dinosaurs or scavenged dead animals. Most, however, ate plants (but not grass, which hadn't evolved yet). Rocks that contain dinosaur bones also contain fossil pollen and spores that indicate hundreds to thousands of types of plants existed during the Mesozoic Era. Many of these plants had edible leaves, including evergreen conifers (pine trees, redwoods, and their relatives), ferns, mosses, horsetail rushes, cycads, ginkos, and in the latter part of the dinosaur age flowering (fruiting) plants. Although the exact time of origin for flowering plants is still uncertain, the last of the dinosaurs certainly had fruit available to eat.
Approximately 700 species have been named. However, a recent scientific review suggests that only about half of these are based on fairly complete specimens that can be shown to be unique and separate species. These species are placed in about 300 valid dinosaur genera (Stegosaurus, Diplodocus, etc.), although about 540 have been named. Recent estimates suggest that about 700 to 900 more dinosaur genera may remain to be discovered.
Most dinosaur genera presently contain only one species (for example, Deinonychus) but some have more (for example, Iguanodon). Even if all of the roughly 700 published species are valid, their number is still less than one-tenth the number of currently known living bird species, less than one-fifth the number of currently known mammal species, and less than one-third the number of currently known spider species.

The first dinosaurs were small and lightly built, mostly about 10-15 feet long (3 to 4.5 m). They were bipedal carnivores or omnivores, and probably very agile and fast.
The world's oldest-known dinosaurs have been found on Madagascar, an island off the coast of SE Africa.These dinosaur fossils date from about 230 million years ago during the Triassic period .

The largest complete dinosaur we know of was Brachiosaurus ("arm lizard"); it reached 23 m in length and 12 m in height (about the length of two large school buses and the height of a four-story building). Fragmentary leg bones and vertebrae of even larger dinosaur species are known, but these skeletal remains are too incomplete to determine their exact size. Several of these (Argentinasaurus and Amphicoelias) might have been one and a half to two times larger than Brachiosaurus. The smallest dinosaurs were just slightly larger than a chicken; Compsognathus ("pretty jaw") was 1 m (3 ft) long and probably weighed about 2.5 kg (about 6.5 lb). These three dinosaur types all lived during the Jurassic Period. Mussaurus ("mouse lizard") was claimed as the smallest dinosaur, but it is now known to be the hatchling of a dinosaur type that was much larger than Compsognathus when fully grown. If birds are advanced dinosaurs, then the smallest dinosaur would be the hummingbird!

Eoraptor (pronounced EE-oh-RAP-tor) is one of the earliest known dinosaurs. It was a very small carnivore (meat-eater) that lived during the late Triassic period, about 228 million years ago. Recently, even older dinosaurs have been found in Madagascar.

Animal lifespans relate in part to their body size and in part to their type of metabolism. Dinosaur lifespans probably varied in length from tens of years to hundreds of years. Their possible maximum age can be estimated from the maximum lifespans of modern reptiles, such as the 66-year lifespan of the common alligator (Alligator mississippiensis) and the impressive lifespan of a Black Seychelles Tortoise (Geochelone (Aldabrachelys) sumeirei). One specimen of this now-extinct species, which was an adult when captured, lived a record 152 years in captivity (1766-1918) and had an accidental death.
Dinosaurs probably communicated both vocally and visually. The chambered headcrests on some dinosaurs such as Corythosaurus and Parasaurolophus might haved been used to amplify grunts or bellows. Defensive posturing, courtship behavior, and territory fights probably involved both vocal and visual displays. An angry Triceratops bull shaking his head at you, even silently, would have made himself very clearly understood!
Some dinosaurs were social creatures. Recently discovered evidence indicates that they travelled together and that some may even have migrated (because dinosaur fossils have been found above the Arctic Circle, where food supply would have been seasonal). Grouped hadrosaur nest sites have been found with badly crushed eggshells and skeletons of baby dinosaurs (with slightly worn teeth) still in the nests, suggesting that some babies stayed in their nests after hatching and probably were fed by parents.